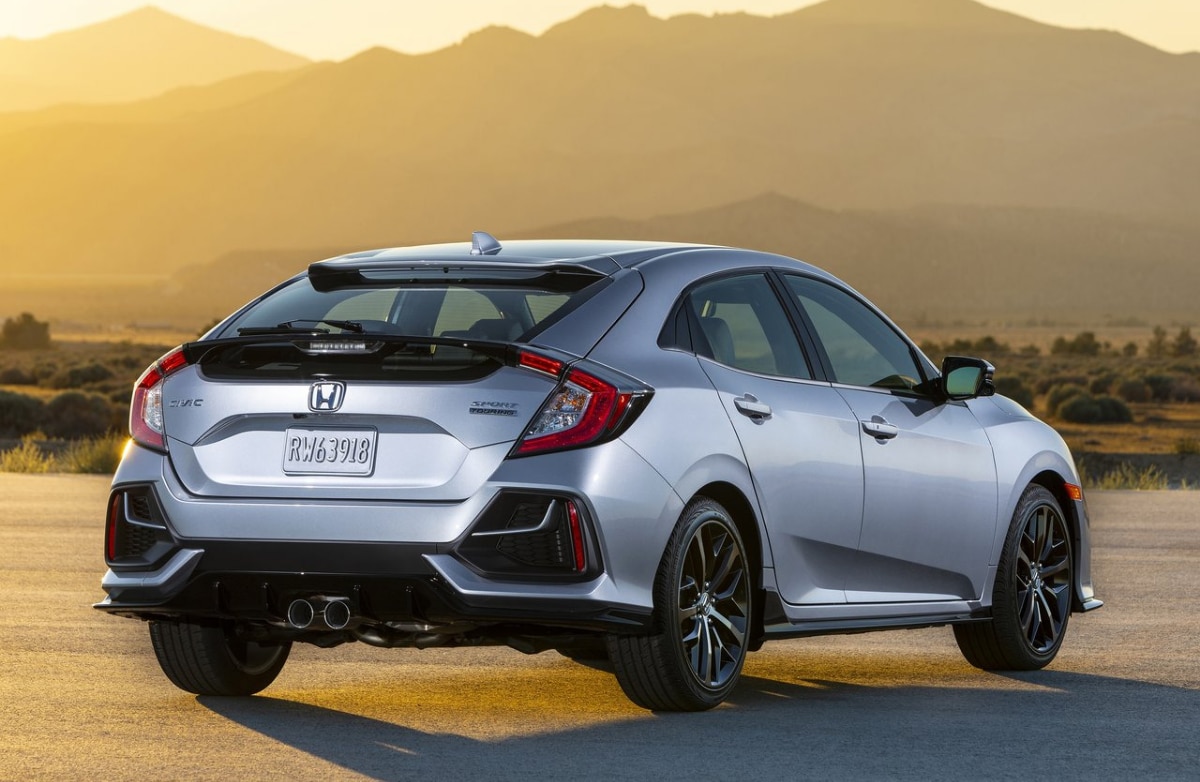 The Honda Civic, an Exhilarating Ride.

The 2020 Honda Civic is an exciting compact car that Honda enthusiasts simply can't wait much longer for. At Phil Long Honda of Glenwood Springs, we have all the details you need regarding the new Civic model. Let's check out the latest details and see exactly what's in store for this model.

View New Honda Civic Inventory


2020 Honda Civic Release Date
We expected the 2020 Honda Civic to arrive sometime towards the end of the 2019 calendar year. As of October 2019, Honda Autos updated their website to show the 2020 Honda instead of the 2019 model. This confirms that the 2020 Civic will be on sale at your local Honda dealership very soon.


2020 Honda Civic Price
The Honda Civic is still fresh from its redesign in 2016 kicking off the 10th generation Civic so don't expect too many major exterior changes to the 2020 Honda Civic. We anticipated that the 2020 Honda Civic price would remain close to the 2019 model year. The starting price of the new Civic will be $19,750 for the sedan, the coupe at $20,950 and the hatchback at $21,650.


2020 Honda Civic MPG
It was easy to estimate the 2020 Honda Civic mpg based on the same engine options from the 2019 model. The 2020 Honda Civic fuel economy is 30 city/38 hwy mpg with the turbocharged 174-horsepower engine and an automatic transmission. A base engine with a CVT achieves 25 city/36 hwy mpg instead. The Civic Coupe gets better mpg than the sedan with a standard 30 city/38 hwy where the Civic Hatchback achieves 31 city/40 hwy mpg for the best base fuel economy the 2020 Civic offers.


2020 Honda Civic Interior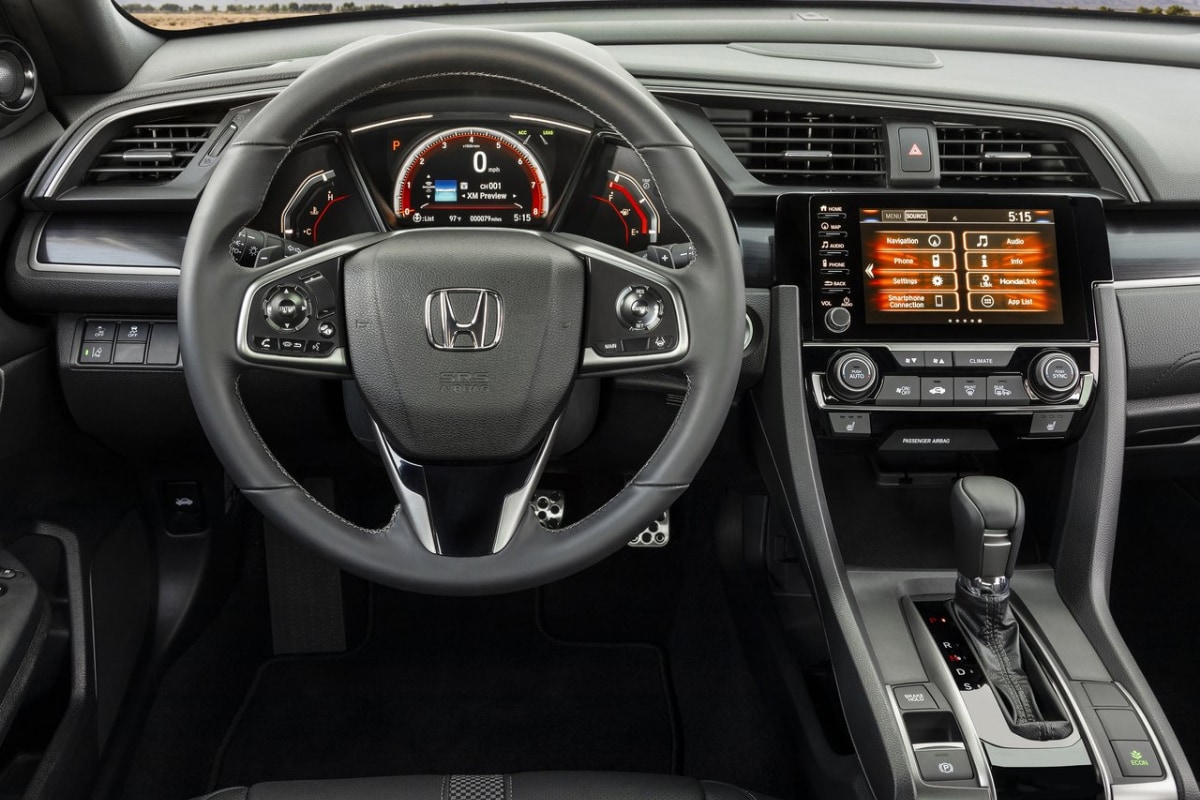 The interior of a 2020 Honda Civic is expected to be identical to the 2019 model. This means all three body styles hold 5 people, while the Type R has room for 4 people instead. Cargo space is 15.1 cubic feet in most sedan models. The coupe has 12 cubic feet while the hatchback features 22.6 or 25.7 cubic feet. You will receive automatic climate control, a 4-speaker audio system, Bluetooth, a 5-inch touchscreen radio display, and a rearview camera. You will have the option to upgrade to a moonroof, dual climate control, proximity key entry, push-to-start, remote start, a navigation system, wireless device charging, 8-10 speaker audio system, more USB charging ports, a bigger 7-inch radio display, Android Auto, Apple CarPlay, and XM satellite radio.


2020 Honda Civic Trims & Configurations
In total, the 2020 Honda Civic will come in either a sedan, coupe, or hatchback body style with four or five trim levels. If they remain the same as the 2019 Civic, we will have the following trim levels: LX, Sport, EX, EX-L, and Touring. In addition to these configurations, the 2020 Honda Civic Si (sedan-coupe) and 2020 Honda Civic Type R (hatchback) will be available as high-performance variants.

View New Honda Civic Inventory


2020 Honda Civic Sedan
All new Civic models now come with the Honda Sensing suite of active safety technologies. Honda Sensing first became available in the 2018 Honda models and will now become a standard feature as of 2022. Other standard features include cloth seats, a four-speaker stereo, automatic climate control, Bluetooth, USB port, five-inch audio display screen, plus a multi-angle rearview camera.
| | | | | | | |
| --- | --- | --- | --- | --- | --- | --- |
| Style | Starting Price | MPG | Engine | Transmission | Seats | Drive |
| Sedan | $19,750 | 25/36 | 2.0-liter four-cylinder engine/158 horsepower | six-speed manual transmission | 5 | FWD |
2020 Honda Civic Coupe
The price increases slightly with the coupe model, but everything else remains essentially the same as the Honda Civic sedan.
| | | | | | | |
| --- | --- | --- | --- | --- | --- | --- |
| Style | Starting Price | MPG | Engine | Transmission | Seats | Drive |
| Coupe | $20,950 | 30/38 | 2.0-liter four-cylinder engine/158 horsepower | six-speed manual transmission | 5 | FWD |
2020 Honda Civic Hatchback
The 2020 Honda Civic Hatchback model receives an automatic upgrade to the turbocharged engine and CVT transmission.
| | | | | | | |
| --- | --- | --- | --- | --- | --- | --- |
| Style | Starting Price | MPG | Engine | Transmission | Seats | Drive |
| Hatchback | $21,650 | 31/40 | turbocharged 1.5-liter engine/174 horsepower | CVT | 5 | FWD |
2020 Honda Civic Performance & Reliability
A 2020 Honda Civic comes with a 2.0-liter four-cylinder engine that pumps out 158 horsepower. It pairs to a six-speed manual transmission. There's also the optional 1.5-liter turbocharged four-cylinder that produces 174 horsepower and works with the CVT. Some hatchback models upgrade that to 180 horsepower.  If you want maximum performance, you'll be more interested in the Civic Si or Type R instead. 


2020 Honda Civic Exterior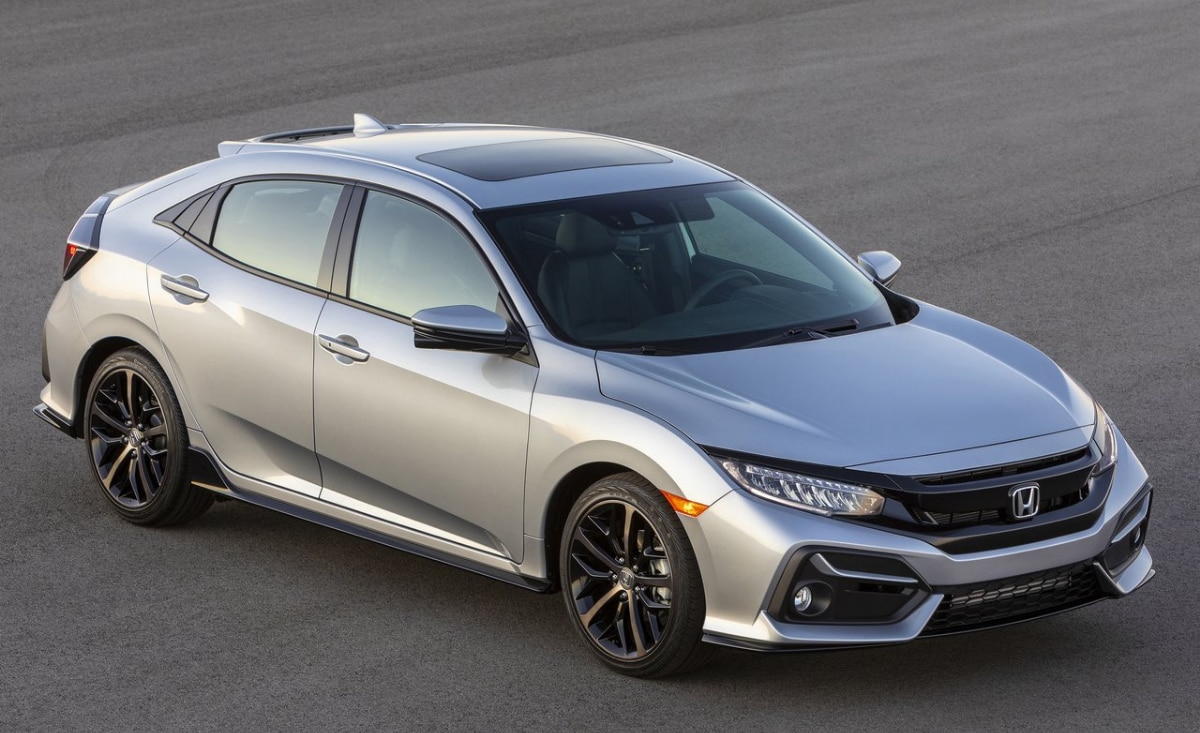 Standard exterior features of the 2020 Honda Civic include LED taillights, LED running lights and 16-inch alloy wheels. Continuing off the redesign in 2016, the 2020 Civic will have defining exterior lines to compliment a more aggressive design standing out from the crowd (even a crowd of older Civics). The new 2020 Civic will retain its signature C-shaped taillight design and sleek exterior profile. There's also a variety of exterior colors (options differ per body style). In total, choose from 8 color options: Crystal Black Pearl, Cosmic Blue Metallic, Aegean Blue Metallic, Rallye Red, Modern Steel Metallic, Lunar Silver Metallic, Platinum White Pearl, and Molten Lava Pearl.


2020 Honda Civic Reviews
Car and Driver rave about the updated 2020 Honda Civic Type R, while Cars Direct is pleased that the sporty look continues into the new model year.


Honda Civic Lease Specials
With the 2020 Honda Civic models arriving soon, it's time to start thinking about lease deals. Once they hit our Honda showroom, we will have all of the new Honda Civic models available for lease. Contact Phil Long Honda in Glenwood Springs, CO to find out more about our low payment options and flexible terms with our leasing contracts.


2020 Honda Civic for Sale
Do you want to buy a new Honda Civic instead? Browse our online inventory or stop by our Honda dealerships today to test drive one of the 2020 Honda models.
Make an Inquiry